Massage Therapy
Yes! Zuga Fitness offers massage! We have partnered with Grounded Therapeutics, so you can receive massages at the same place where you take Zumba, yoga, and other fitness classes! Swedish, sport, prenatal, and hot stone massages are available. If you really want to pamper yourself, you can add an essential oils foot treatment or sound healing to any massage. Discounts available for Zuga Monthly Members! Call (636) 399-1225 for more information.
A soft tissue therapy for the treatment of skeletal muscle immobility and pain. The method engages the myofascial tissue and loads it with constant force until release occurs.To achieve this, practitioners can use knuckles, elbows, or other tools to slowly stretch the restricted fascia. The practitioner moves slowly through the layers of the fascia until the deep tissues are reached.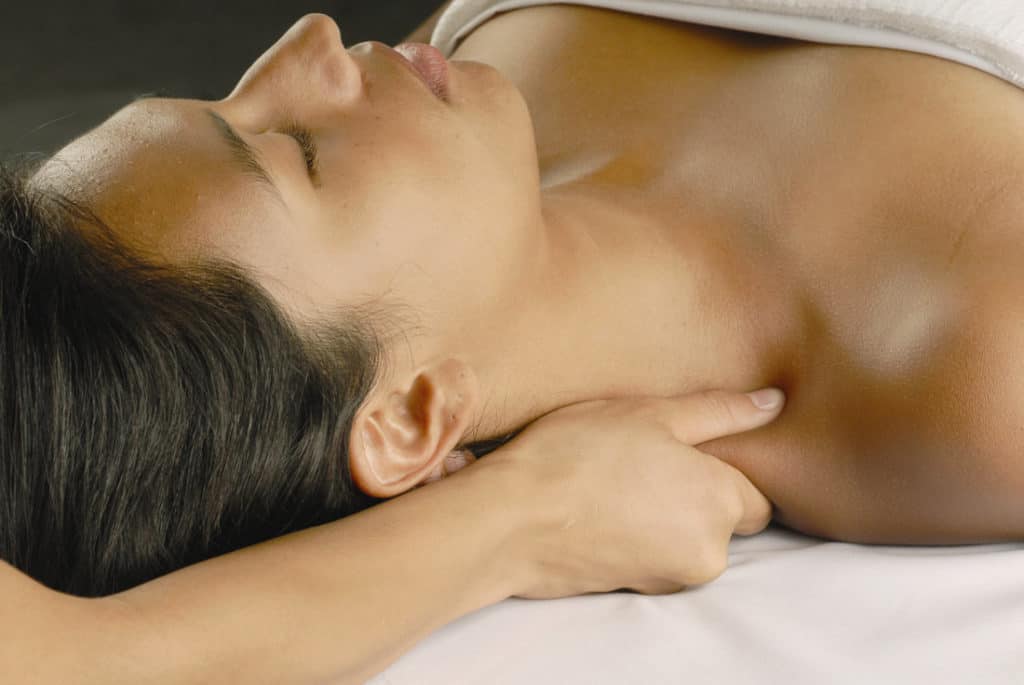 Massage oil is used with smooth, gliding strokes. Firm but gentle pressure is used to promote relaxation, ease muscle tension and create other health benefits. It is a classic massage that will ease your stress and allow you to slip into a calm state of relaxation.
A form of bodywork geared toward participants in athletics. It is used to help prevent injuries, to prepare the body for athletic activity, maintain it in optimal condition, and to help athletes recover from workouts and injuries.
Allow the soothing heat of hot stones relax the body, release pain, and remove tension. Hot Stones are used along with standard massage techniques for the ultimate get-a-way.
Add an extra 10 minutes to any massage by beginning with the relaxing vibrations of live Tibetan singing bowls. As you listen to the singing bowls you will feel the sound waves flow through your body and wash away your stress. Your mind and body will be in a perfect state to receive your massage.
A Japanese technique for stress reduction and relaxation that also promotes healing. It is administered by "laying on hands" and is based on the idea that an unseen energy flows through us. If one's energy is low, then we are more likely to get sick or feel stress, and if it is high, we are more capable of being happy and healthy.
The word Reiki is made of two Japanese words – Rei which means "God's Wisdom or the Higher Power" and Ki which is "life force energy". So Reiki is actually "spiritually guided life force energy."
A treatment feels like a radiance or vibration that flows through and around you. Reiki treats the whole person including body, emotions, mind, and spirit creating many beneficial effects that include relaxation and feelings of peace, security and wellbeing. Reiki is a simple, natural and safe method of spiritual healing and self-improvement that everyone can use.
Therapeutic bodywork that focuses on the special needs of the mother-to-be as her body goes through the dramatic changes of pregnancy. It enhances the function of muscles and joints, improves circulation and general body tone, and relieves mental and physical fatigue. Special cushions are used so the mother can comfortably lay face down. This type of massage offers a natural, safe, drug-free alternative choice for pain relief, since taking medications are often limited during a pregnancy for the sake of the unborn child
For those of you with a more adventurous side, AcroYoga Therapeutics is a bodywork practice where clients benefit from a weightless, inverted and restorative treatment.
It helps induce and create a deep and comforting connection with one's inner child.
After the "flying" portion of the session, you will be treated to yoga stretches and deep pressure massage.
(For this session it's best to wear yoga pants or shorts, and sports bra or tank top)
Benefits of AcroYoga Therapeutics:
Relaxes the body and mind to reduce stress
Extends the spine naturally
Frees the body and mind from tension to allow greater body awareness
Removes physical blockages so energy can flow and emotions can be processed
Improves mindfulness and wellness
Keep in mind that AcroYoga Therapeutics is a physical practice in which the practitioner lifts you into various poses and stretches. You will be inverted during much of this session. For your safety, the "flying" portion of this therapeutic flow can only be provided to those 170 lbs or less.